GenZ, it's time to take back the internet! As the first digitally-native generation and one of the largest consumer powers with $360B in disposable income, the next internet should be created for us, by us.
Once upon a time, Boomers bought affordable houses, GenX owned Amazon at $18, and Millennials invested in Uber through AngelList. Nowadays, traditional financial markets are no longer providing the stability and security needed to maintain a comfortable standard of living. We are increasingly facing significant challenges, such as burdensome student debt and skyrocketing housing costs. Late stage capitalism has fucked genZ.
Here's Where We Come In
Our vision is to define internet culture for a new generation. We believe web3 principles such as fairness, global access, permissionless interaction, and constant connectivity will bring better opportunities for genZ than previous generations had. But no one is going to create those opportunities for us, we have to create them ourselves.
Who We Are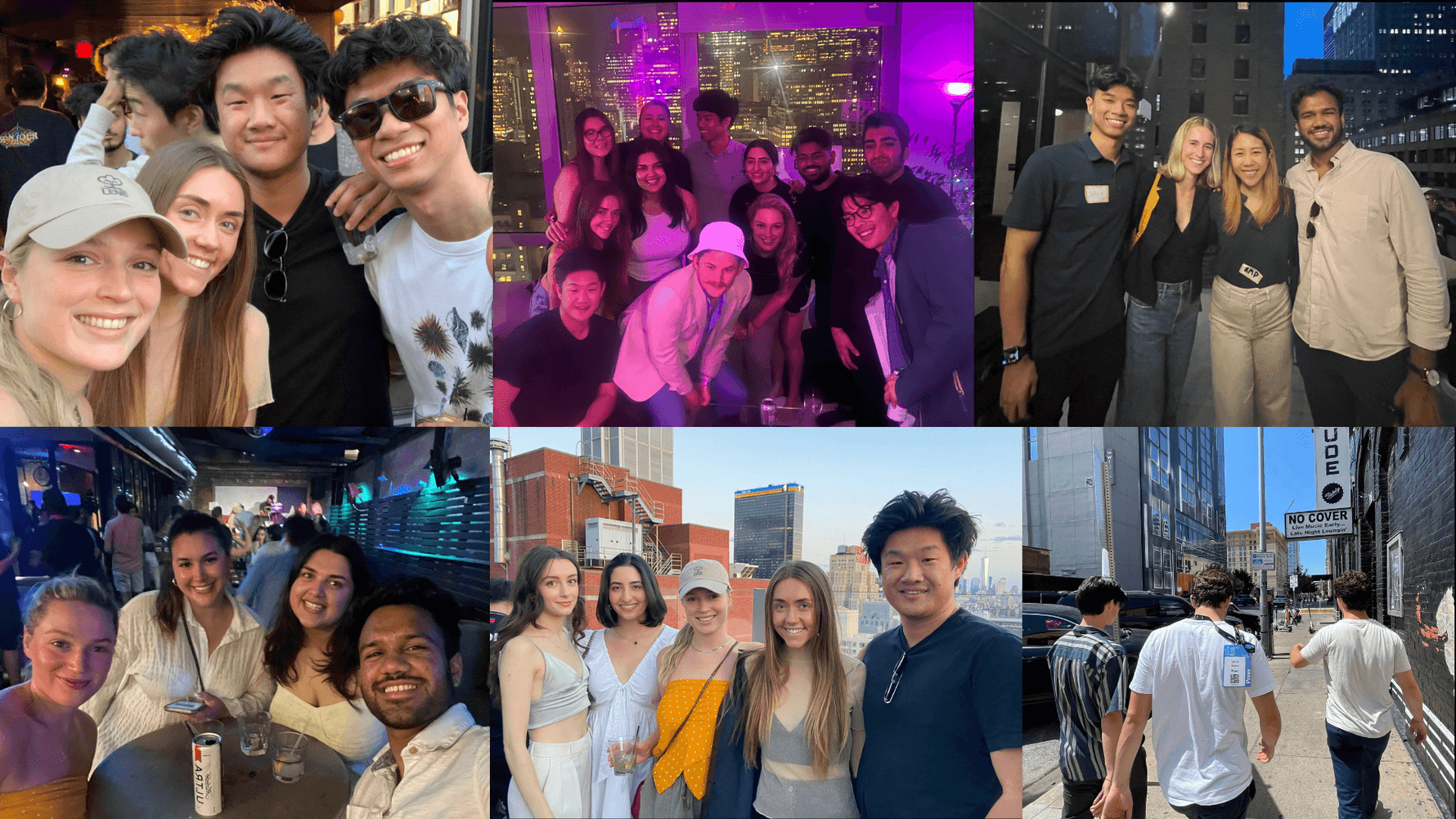 We are the first genZ DAO and we have 60 members from 10+ countries representing brands and organizations such as Uniswap, Unstoppable Domains, BlueYard Capital, Techstars, 1kx, Skale, Roll, The University of Texas at Austin, Duke University, and many more.
How We'll Support You
Our DAO is composed of four teams: Investments, Consulting, Content, Finance & Operations. There are plenty of ways for members to get involved.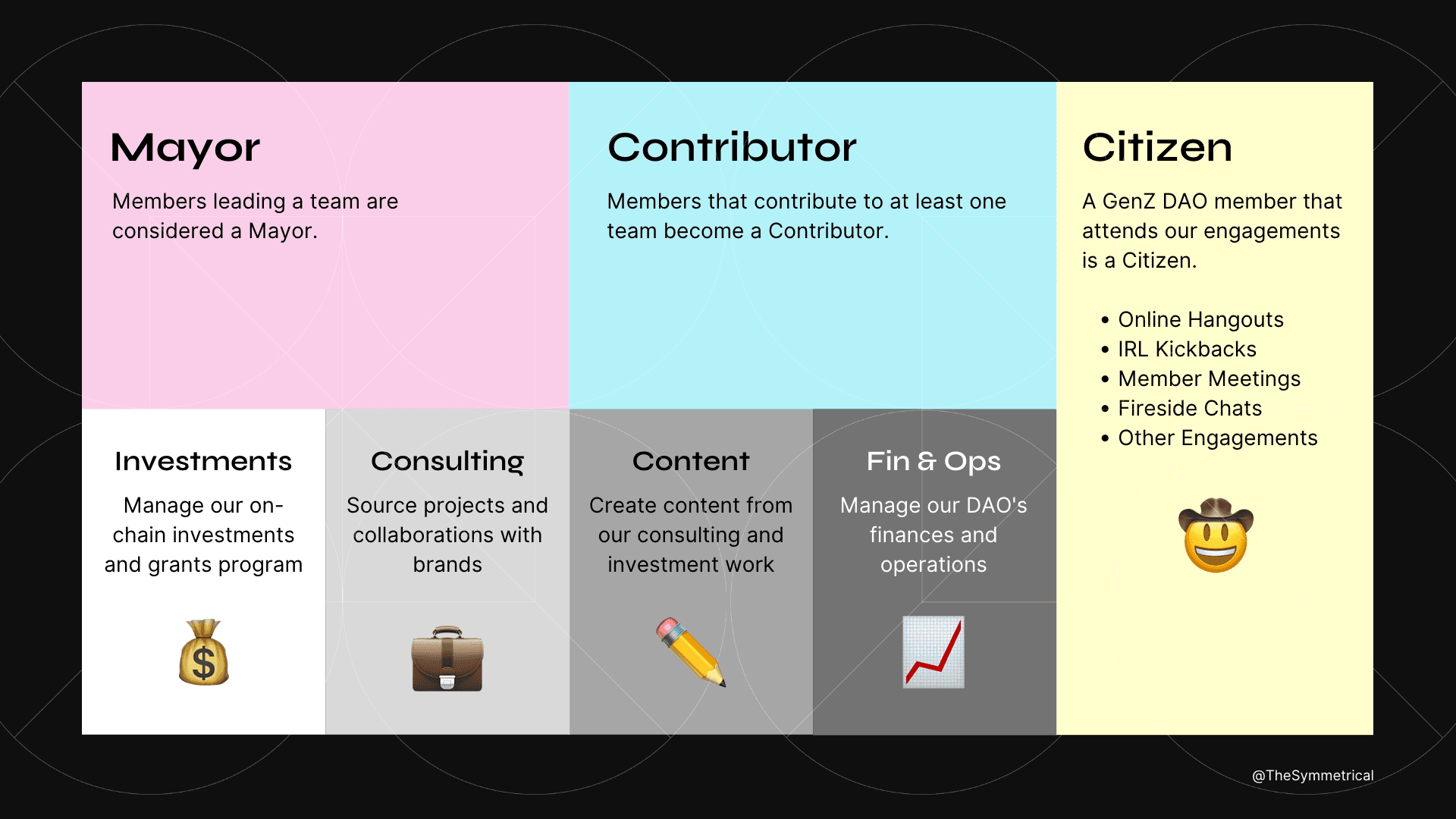 Here is a quick breakdown of the opportunities we've created for ourselves:
💰 Investments
We source and evaluate on-chain assets, connect members with opportunities to invest in startups, and introduce them to a network of web3 founders. This year, we've started a Grants program to help early-stage teams and founders with their companies.
💼 Consulting
We've helped Metaverse record labels create GTM strategies, provided analytics into NFT platforms and markets, and built a roadmap for a proposal-and-funding platform. Members will be able to work on consulting projects for pay.
📍 Social Events
We love hosting social events! From online hangouts to IRL events, there will be plenty of opportunities for members to make friends and connections. In the past, we've attended conferences together, such as Consensus, NFT NYC, Token2049, and ETH India.
🔥 Fireside Chats
We invest in education by hosting token-gated Fireside chats with prominent web3 thinkers. Past guests include Evin McMullen from Disco, Will Papper from Syndicate, Hoseeb Qureshi from Dragonfly, Steph Alinsug and Jess Sloss from Seed Club, and Lata Petersson and Anil Hansjee from Fabric Ventures.
And more…
In the last 12 months, we have…
Invested in 7 on-chain assets, including $LOOKS, $ETH, $MATIC, $FOREX, $AUDIO, $LRC, and $HNT

Fundraised $70k in just two months for our web3 consumer grants program

Organized a syndicate to invest in Disco's pre-seed round

Received sponsorships from Meta Cartel, Bain Capital Crypto, and 1kx

Funded Heat Check (from Krause DAO) with a grant

Attended Seed Club's (web3 YC) tokenized community accelerator
🤠 Join Our Season 3 Waitlist
We are currently halfway through Season 2. Season 3 will begin in May.
Are you ready to join? We've got big plans for 2023.
If you're genZ and our DAO resonates with you, join our Season 3 Waitlist. You can do this by minting our FREE NFT (scroll to the beginning of our post). A member of the core team will reach out closer to Season 3.